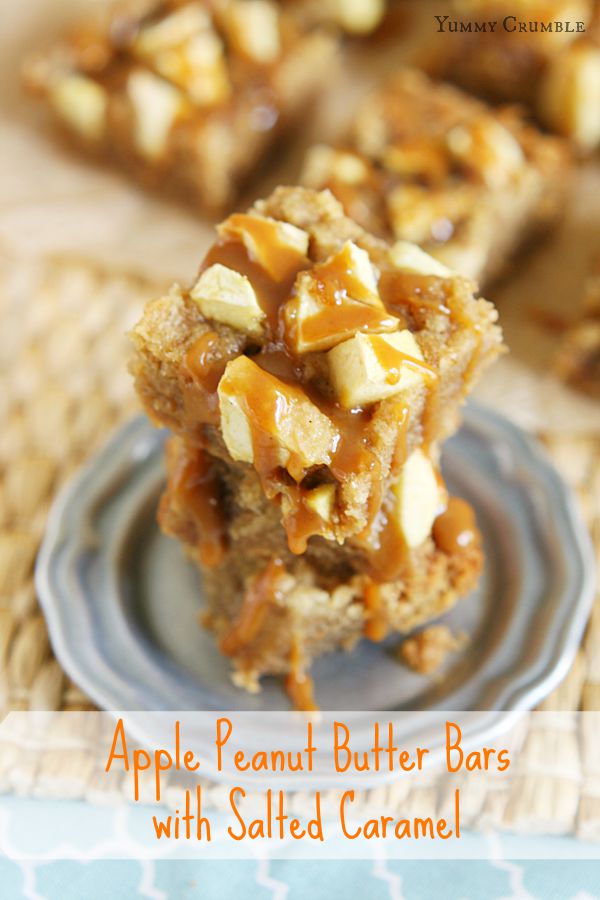 Amazing thick and chewy peanut butter bars with an apple cinnamon streusal and salted caramel drizzle.  If you adore apples smothered in peanut butter, these Apple Peanut Butter Bars with Salted Caramel will be your new best friend.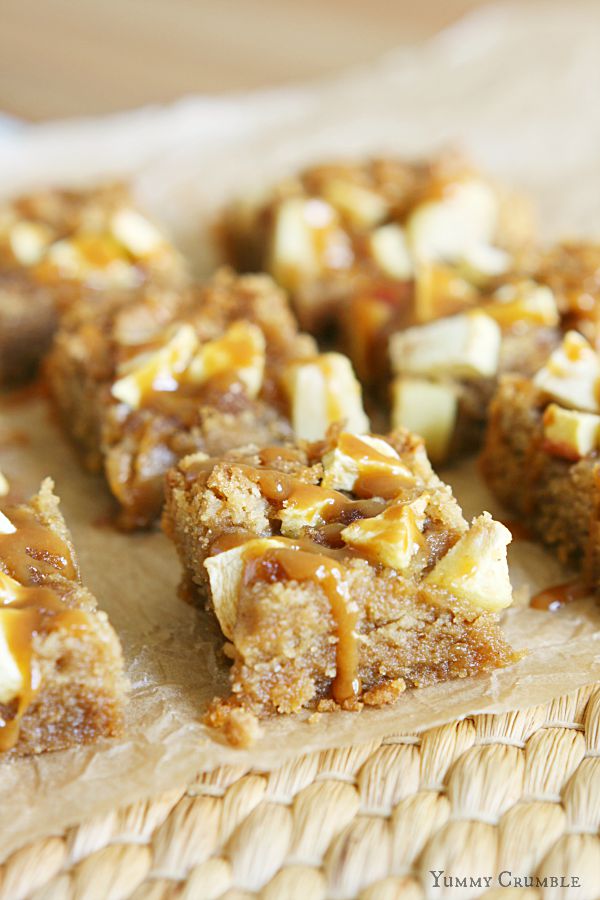 How can I make a healthy snack of apples and peanut butter into a completely decadent and insanely delicious not so healthy dessert?  That may or may not have been my thinking while developing these bars. It's okay though.  I eat these in my gym clothes so that I can run straight to the gym and work off the calories after pigging out.  It's my system and I stand by it.  By the way, these Apple Peanut Butter Bars with Salted Caramel are totally worth running those extra miles on the treadmill.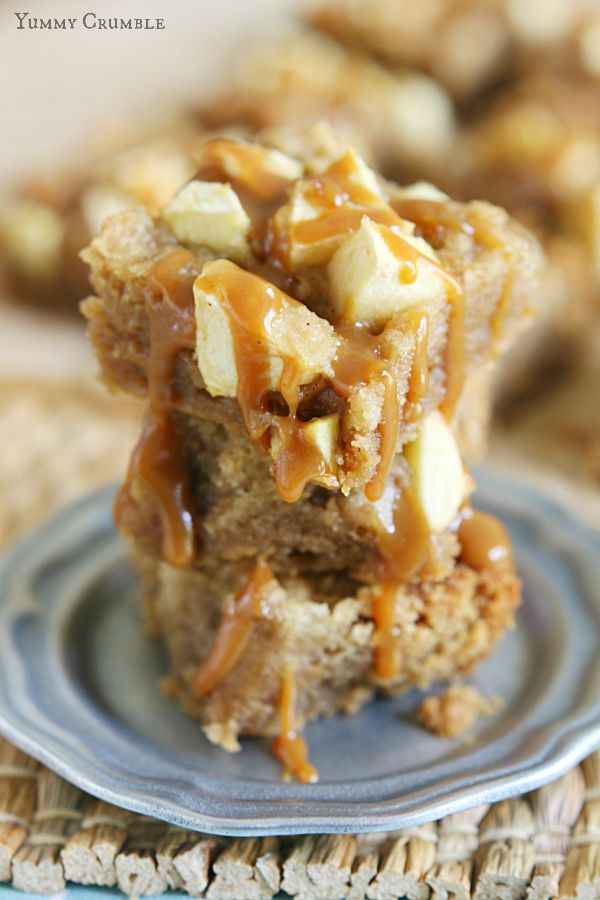 So I've started a weight loss journey.  Ha! Just kidding.  That's ridiculous.  I am on a journey though and its the "I need to look like a Victoria's Secret Model" journey.  It's taking longer than I expected because well, I'm in the business of baking outrageously indulgent desserts.  But remember my system.  Gym clothes.  Pig out.  Run it off.  By the way, who on earth starts a diet when Fall is starting?  I'm going to be fighting off pumpkin flavored demons and apple pie monsters for about four months.
Apple Peanut Butter Bars with Salted Caramel
Ingredients
Peanut Butter Bars
½ cup melted unsalted butter
1 cup light brown sugar
1 large egg, beaten
1 teaspoon vanilla bean paste or extract
½ cup peanut butter
¼ teaspoon salt
1 cup all-purpose flour
Apple Cinnamon Streusal
½ cup all purpose flour
½ cup light brown sugar
¼ cup softened butter
½ teaspoon cinnamon
1 apple peeled, cored and sliced into ¼ inch cubes
Salted caramel for drizzle
Instructions
Preheat your oven to 350 F and line a 8 x 8 baking dish with foil or parchment paper.
In a large bowl, mix the brown sugar and melted butter until fully combined.
Whisk in the egg and vanilla bean paste or exctract.
Mix in the peanut butter making sure the mixture is smooth.
Using a wooden spoon, mix in the flour and salt.
Pour dough into the baking dish and bake for 20 minutes.
While the bars are baking, make the streusal.
In a small bowl, using a fork mix the flour, butter, cinnamon and sugar together.
Toss in the apples and mix into the streusal.
Once the bars have finished the first 20 minutes, take them out of the oven and sprinkle the streusal on top.
Pop them back in the oven to finish baking. About 15-20 more minutes. Insert a knife to make sure it comes out relatively clean. You still want them to be gooey.
Once they are cooled, slice them and drizzle with the caramel.
I want to add one more thing.  Do not forget the salted caramel!  It's incredible with the peanut butter and soft cinnamon apples.  I know it's more calories, but you can always run it off.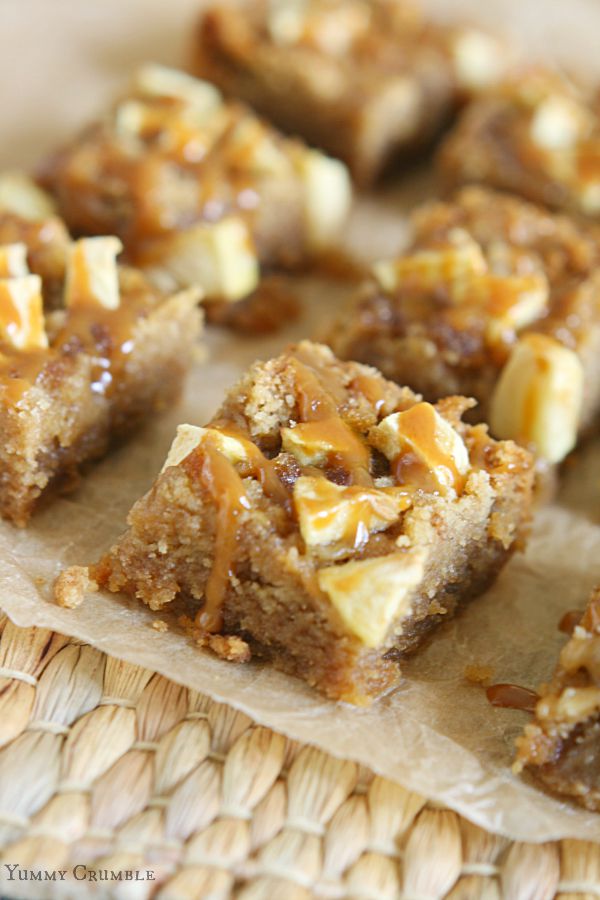 Adapted from Gal on a Mission.
Try these too!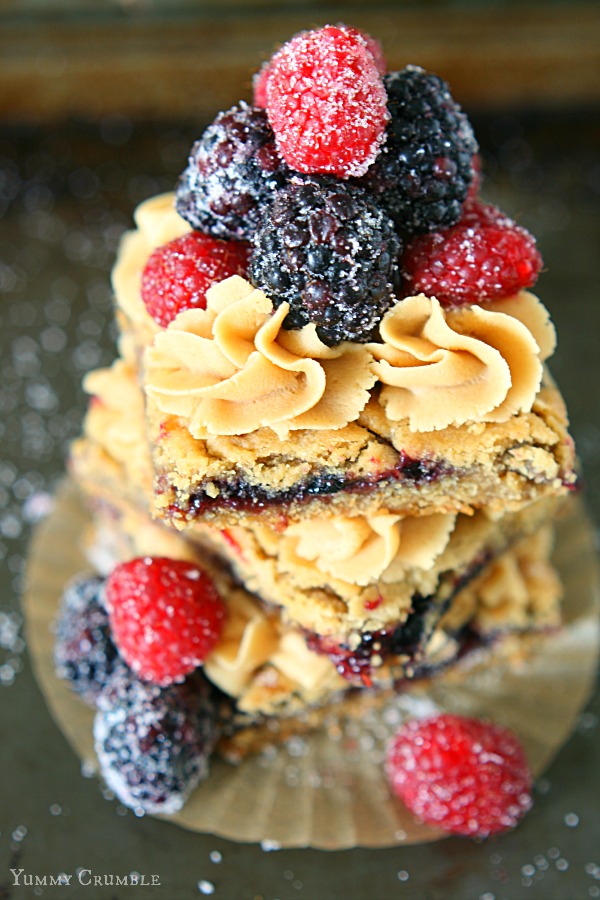 Peanut Butter Jelly Cookie Bars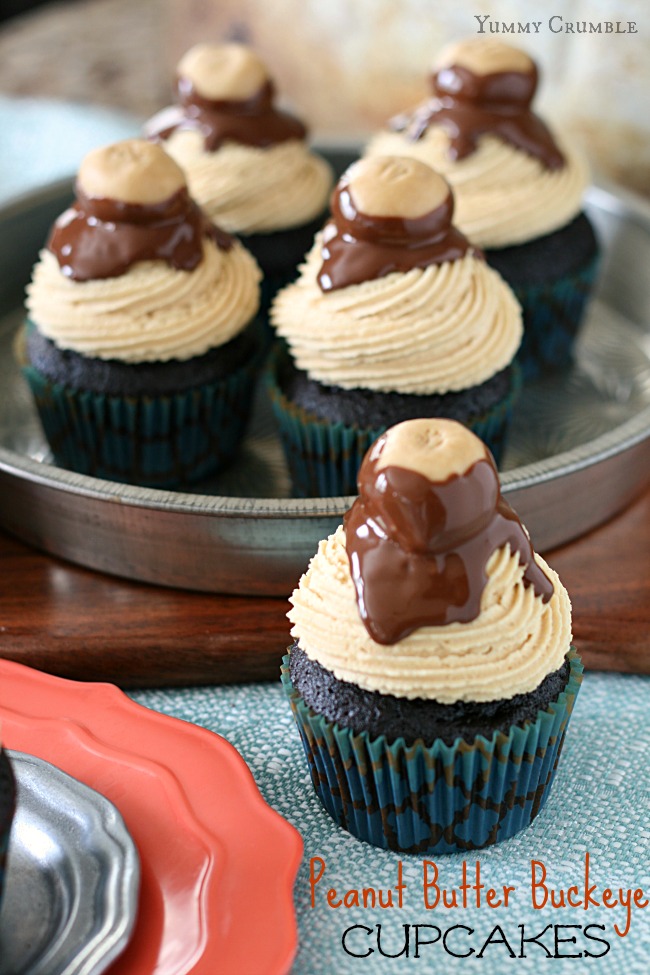 Peanut Butter Buckeye Cupcakes
 Apple Cinnamon Baklava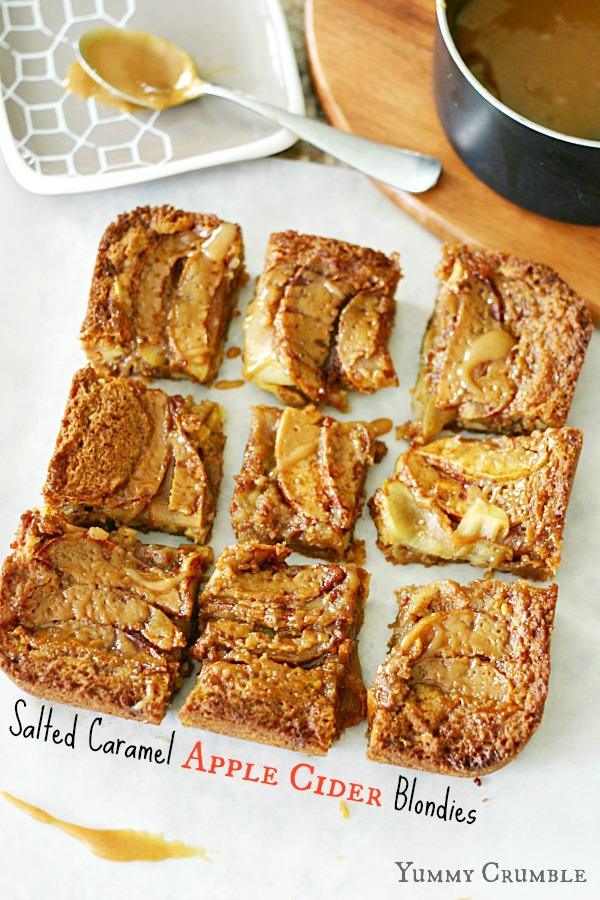 Salted Caramel Apple Cider Blondies